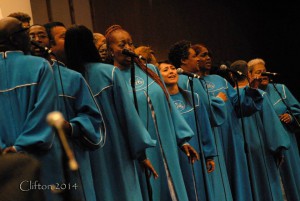 In 1979, the first Edwin Hawkins Music & Arts Seminar was held in San Francisco, California. The Seminar was developed as an outgrowth of the professional success of Edwin Hawkins as the composer of "Oh Happy Day!" the largest selling gospel recording in the history of the music industry.
Having toured the world, Edwin became acutely aware of the lack of valid information on the history and development of Black religious music, especially modern day contemporary gospel, and its place as an art form. The use of sacred dance and drama as a conveyor of the spirit and culture of Blacks was not being taught as a discipline in any major college or university in this country. Edwin being a four time Grammy Award winner, felt it incumbent upon himself to marshal the very finest musicians and artists who were able to teach this diverse perspective of music in development.
The Love Fellowship Convention developed its roots in 1988, when independent minded pastors in Atlanta, Georgia sensed the need to support and nurture one another through good Christian fellowship. Under the leadership of the late Bishop Walter L. Hawkins, the Love Fellowship Convention provided pastors and their congregations the opportunity to refresh their spirits through joint praise, worship and education without regard of denominational affiliations.
Joining together in 1994, these two brothers, Edwin Hawkins and Walter Hawkins, combined their efforts and have continued to offer the highest level of professional instruction in culturally relevant areas of Christian music, dance and drama, in addition to true Christian fellowship, which has become a highlight activity for many churches worldwide.